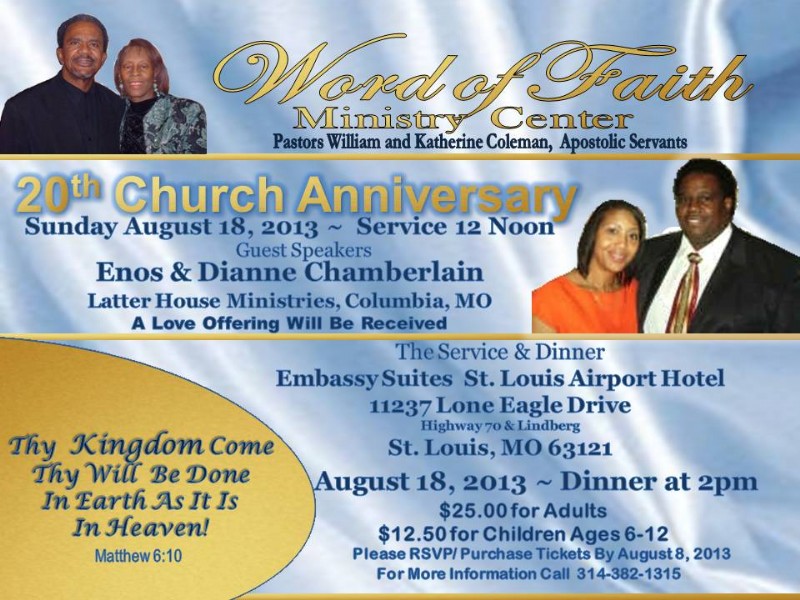 Dear Word of Faith Family and Friends,
You are cordially invited to attend the
"Word of Faith Ministry Center's 20th Church Anniversary,"
Sunday, August 18, 2013, at the
Embassy Suites St. Louis Airport Hotel,
11237 Lone Eagle Drive, (Highway 70 & Lindberg Blvd.)
We will have Morning Service at the Hotel at 12 noon, followed by our Anniversary Dinner at 2pm. Our guest minister will be
"Enos & Dianne Chamberlain"
of Latter House Ministries, Columbia Missouri.
The Chamberlains flow in the apostolic and prophetic. Their ministry is under the apostolic leadership of Dr. Bill Hamon, Christian International Ministries, Santa Rosa Beach Florida.
We have reserved a block of 6 rooms for those wishing to spend the night at the hotel, with a check-in on Saturday, August 17th and check out on Sunday, August 18th. The cost is $104.00 for kingsize and $114.00 for a double - Individual Payment.
The cost of the dinner is $25.00 per adult and $12.50 for ages 6-12. This is to cover the cost of the hotel and dinner. Please note that a Love Offering will be received at the 12 Noon service.
Please RSVP/Purchase Tickets no later than August 8, 2013 so that we know the number of guest to expect for the dinner.
Please come and celebrate what the Lord has done with us these 20 years! Without your presence our celebration will be incomplete!
Sincerely,
,
William & Katherine Coleman,
Apostolic Servants